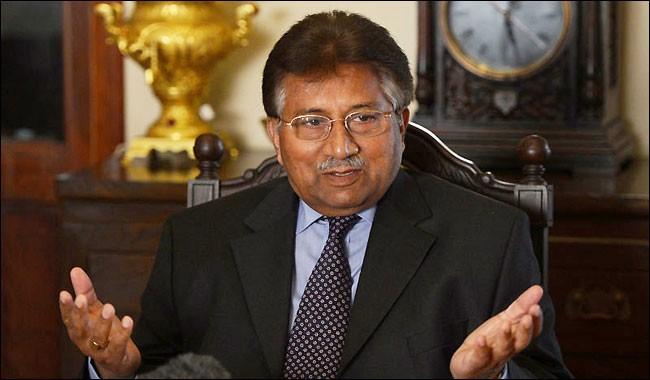 LONDON: Former military ruler General (retd) Pervez Musharraf has appealed to the Supreme Court of Pakistan to help bring an interim government and not let 2018 elections go ahead or else Pakistan Muslims League (N) and Pakistan People's Party (PPP) will win again.
Musharraf hoped that the SC will continue its "activism" and strike down the recently-passed Election Act 2017 in the Senate and National Assembly that empowers Nawaz Sharif taken to the court by the PTI leader Imran Khan. Musharraf was addressing a public gathering of his All Pakistan Muslims League (APML) at an East London venue.
He asked the Supreme Court to help form an interim government which should "run Pakistan for a few years through constitutional amendments and restructure the whole country". "My vision is that the interim government should bring a new system, bring check and balance, make new provinces and that should happen through the
Supreme Court of Pakistan and I believe the SC should do it."
He said the PML-N and PPP will win and this "must not let happen and how not to allow this to happen is the question and that's possible only if the current system is not allowed to go ahead".
Musharraf hoped that the SC will strike down the Election Act 2017 even though it will "create a clash between the legislature and the executive" but he said that would be price worth paying as long as the decision is against Nawaz Sharif.
Musharraf drew a bleak picture of Pakistan and claimed the country was not moving forward and that there was no governance anywhere in Pakistan.
The ex-president claimed that he had the "best team" around him, as none of his ministers had been involved in corruption and that all his appointments were on merit. The former dictator said Pakistan's economy was not headed in the right direction. He said Pakistan had made no progress whatsoever after he left the government some ten years ago.
"There's no investment coming to Pakistan, economy is ruined and I am afraid that Pakistan may be declared bankrupt. People are unhappy because they don't have jobs and they have no buying power left."
Pervez Musharraf praised the JIT formed by the Supreme Court against Nawaz Sharif, the current National Accountability (NAB) cases and the SC decision of disqualification of Nawaz Sharif on the basis of Iqama.
"The Supreme Court judgement of disqualification against Nawaz Sharif is right and legal, but Nawaz Sharif has made it a party political issue and all his party is attacking the SC decision," said Musharraf.
"Instability exists in Pakistan today and foreign countries like India are taking advantage because institutions are not on the same page and India is using this situation to damage Pakistan in neighbouring Afghanistan and elsewhere. It's a dilemma we face today."
Musharraf said: "I am saddened at what's happening in Pakistan. I ran Pakistan for ten years and am aware of its potential that can be used to make Pakistan a leading force in the region. A country's potential can be judged by the resources and Pakistan has everything and its location is ideal but its geographical location is its weakness too. I believe Pakistan is not moving forward."
Musharraf said his party was growing across Pakistan and claimed that over a thousand people attended his party's office in "MQM's heartland Liaquatabad". He said the term "muhajir" shouldn't be used anymore by the Urdu-speaking community. This was Musharraf's appearance at a public rally in UK after five years.
The APML leaders from UK and Europe – including Saeed Bhatti, Ifzaal Siddiqui, MUhammd Ali Chohahn, Najma Shaheen and others – addressed the gathering.